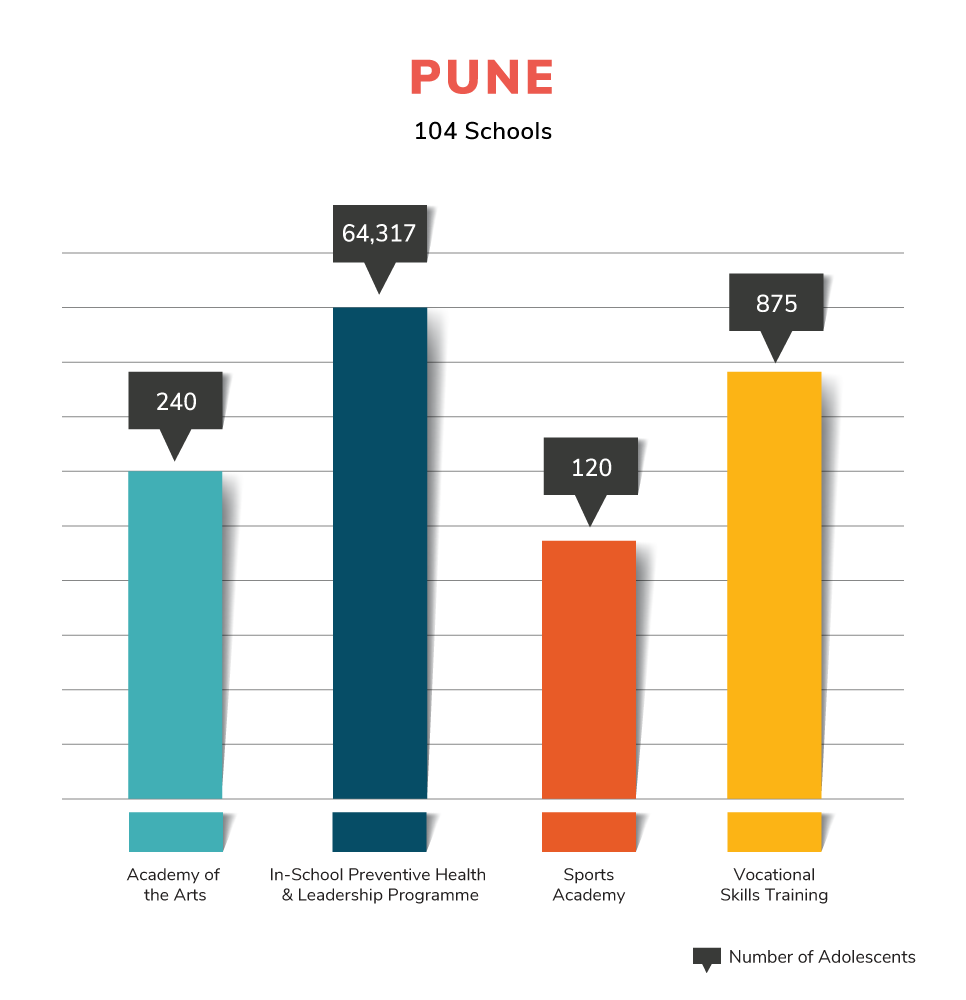 In Pune, we engage the adolescents, studying in the local municipal secondary schools and government aided secondary schools in the In-School Preventive Health & Leadership Programme, Vocational Skill Development Programmes, Sports and Arts.
The intervention in Pune began with the in-school Vocational Skill Development Programme - skills@school. The importance of the region is exemplified by the appointment of full-time Salaam Bombay employees. This approach helps the Foundation stay aligned with the evolving needs of the local communities. Focussing on opportunities for livelihood and sustained positive change through the skill learnt, courses offered are Beauty & Wellness, Robotics, Jewellery Design, Computer Hardware Repair, Mobile Repair, Home Appliance Repair and Fashion Designing. Regional training partners include LabourNet Services India Pvt. Ltd., Kohinoor Technical Institute Pvt. Ltd., All India Institute of Local Government and Graminya Institute For Education Excellence. All our trainers are affiliated with NSDC (National Skill Development Corporation). As part of the initiative, field visits are conducted along with a mid-term and final assessment. In recognition of the need to address 21st century relevant skill development, Robotics India has been specially deployed to conduct Robotics courses in Pune. A total of 120 adolescents from Grade 9 have been through the training. 10 girls who have displayed exceptional talent in Beauty & Wellness have received starter kits for entrepreneurial use.
The In-School Preventive Health & Leadership Programme is a one year model where the students are sensitised on tobacco control through nodal teachers, trained by Salaam Bombay. As part of the initiative, regular in-school workshops on the ill-effects of tobacco are conducted for the students; activities related to advocacy against tobacco are carried out during festivals, taking advantage of the large crowds that throng public places during these periods and student health councils – Bal Panchayat and Bal Parishad - are formed in secondary secondary schools creating young leaders of change. Each student council is required to complete at least 3 out of 6 activities (drawing competitions, Rakshabandhan activities, posters, rallies, etc.). Serious health messaging is conveyed through skits and songs and young leaders present a charter of demands to ensure a tobacco-free environment.
Sports is another focus area and Salaam Bombay Foundation strongly believes in the power of the playground. To provide a pathway for talented young sportspersons while boosting associated employment opportunities, a one year intensive training programme is carried out in cricket and football with the help of regional training partners Mega Pro Academy, Just For Kicks and Glory Sports along with the co-operation of the Pune Municipal Corporation. A highlight of our intervention is the engagement of girls in sports. While the first year saw 60 girls participate in football, this number has grown to 400 in cricket.
"It is a privilege to partner with Salaam Bombay Foundation as a trainer. The programme has been designed to benefit financially weak adolescents so that they become capable individuals." – Mr. Uday Tade, Trainer, Kohinoor Technical Institute, Pune
Training Partners