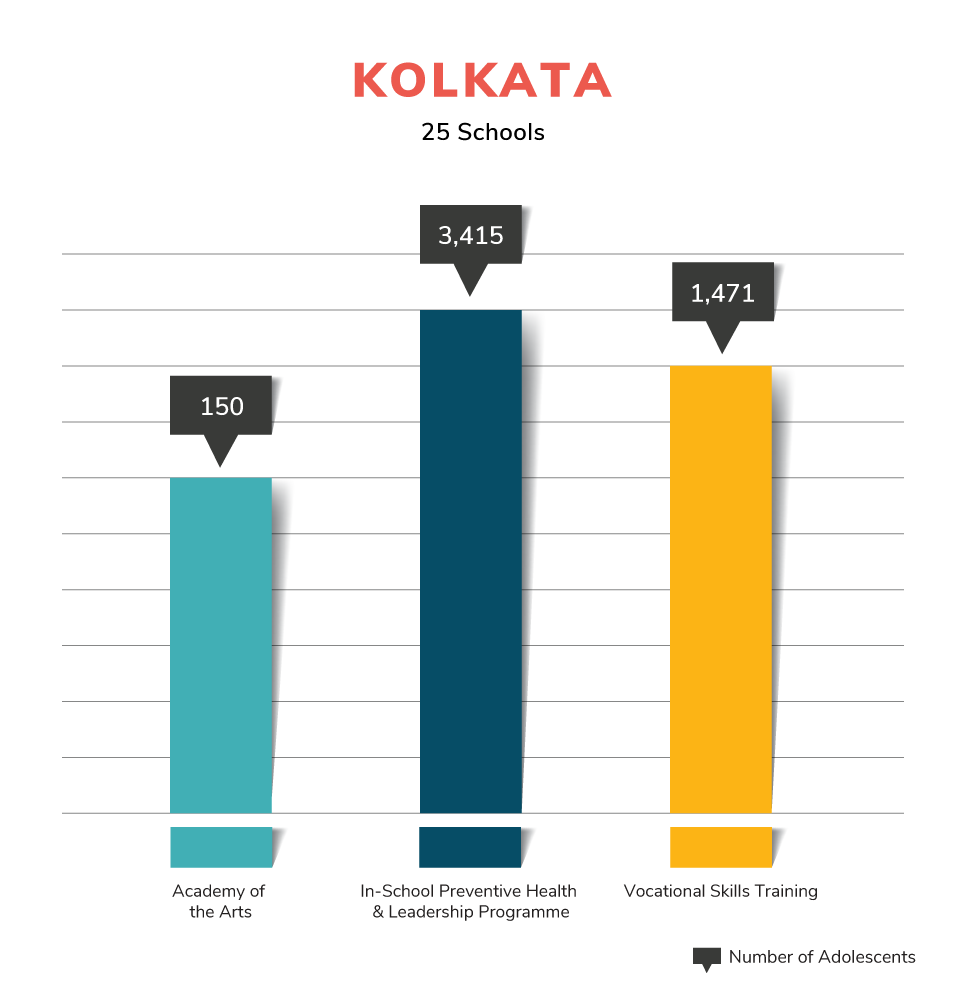 Salaam Bombay Foundation's interventions are aligned towards improving the quality of life of the communities we serve in a comprehensive manner. The interventions are strategically designed to be inclusive, long-term and impact-driven.
Our partnership with Tomorrow's Foundation helps in building synergy on common goals and assists in achieving the desired reach, scale, impact and momentum of the programmes. There is a deep understanding of regional challenges, nuances and opportunities, which helps us to customise intervention strategies that are most relevant, meaningful and beneficial to the region.
In Kolkata, we engage the adolescents, studying in the local municipal secondary schools and government aided secondary schools in the In-School Preventive Health & Leadership Programme, Vocational Skill Development Programmes and the Academy of the Arts.
The In-School Preventive Health & Leadership Programme is a one year model where the students are sensitised on tobacco control through nodal teachers, trained by Salaam Bombay. As part of the initiative, regular in-school workshops on the ill-effects of tobacco are conducted for the students; activities related to advocacy against tobacco are carried out during festivals, taking advantage of the large crowds that throng public places during these periods and student health councils -'Child Cabinet' are formed in secondary schools creating young leaders of change. Each student council is required to complete at least 3 out of 6 activities (drawing competitions, Rakshabandhan activities, posters, rallies, etc.). Serious health messaging is conveyed through skits and songs and young leaders present a charter of demands to ensure a tobacco-free environment.
Based on the need of the region, the Vocational Skill Development Programme focusses on opportunities for livelihood and sustained positive change through the skills learnt. Courses on Mobile Repair, Home Appliance Repair, Graphic Design, Beauty & Wellness, Computer Hardware Repair, Robotics, Conversational English, Financial Literacy and Jewellery Design are carried out by regional training partners Honcho Commercial Pvt. Ltd. and Enguru. As part of the initiative, field visits are conducted along with a mid-term and final assessment by NSDC (National Skill Development Corporation) affiliated assessor Ad's Orion.
Kolkata is known as the cultural capital of India for its rich tradition embracing poetry, music, theatre, film and art and the Salaam Bombay Academy of the Arts has its presence with theatre and dance. Introduction to the Arts while still in school taps into talent that otherwise would have remained latent. This training has led to scholarships and part-time jobs, and the income it generates fuels their education and countless other dreams. Some use this experience to pursue artistic careers that they never knew existed. The one and a half year light module is conducted by regional theatre and dance group Jhalapala Theatre Group. As part of the initiative, students are exposed to inter-school dance and theatre competitions and national level dance competitions.
"This is a great initiative & a noble cause. We are proud to be associated with Salaam Bombay Foundation, a trendsetter among NGOs, motivating all of us to think beyond the ordinary & beyond material pleasure and to give back to the society of which we are an integral part." – Mr. Swarup Ghosh, Co-Founder & Governing Body Member, Tomorrow's Foundation, Kolkata
Training Partners