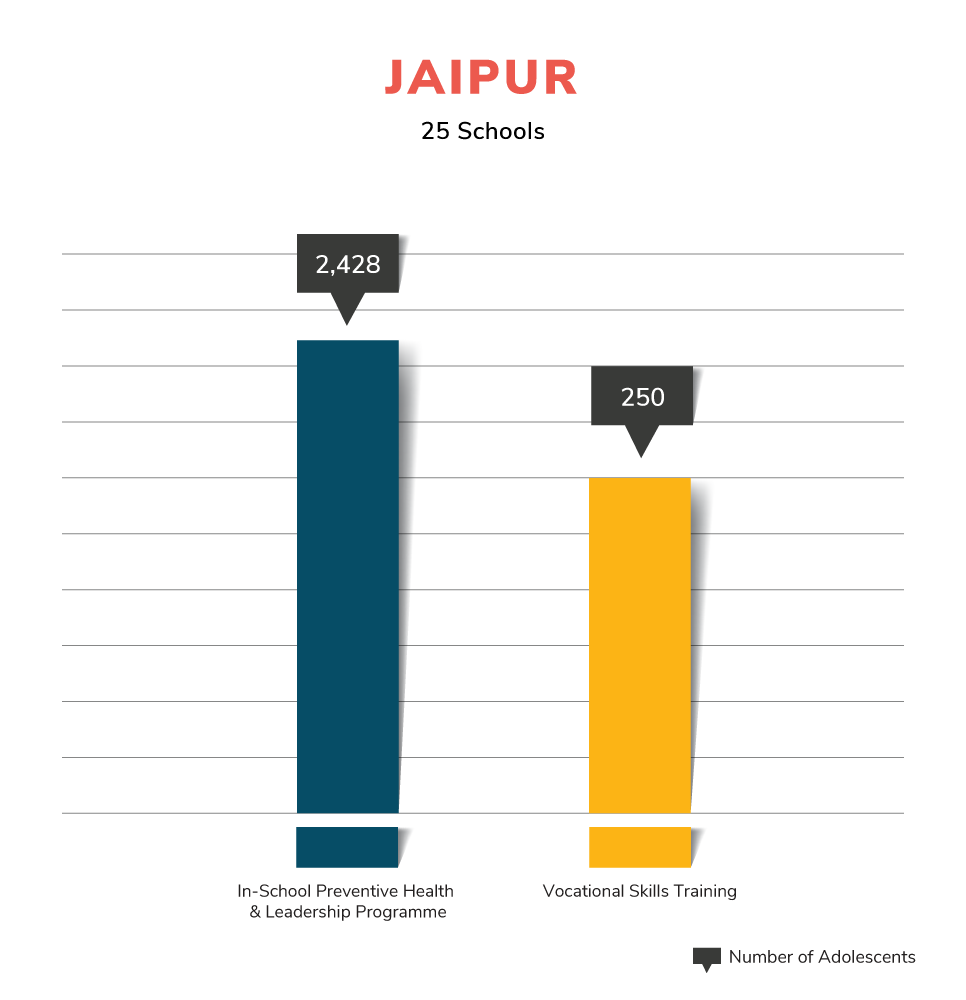 In Jaipur, we engage the adolescents, studying in the local municipal secondary schools and government aided secondary schools in the In-School Preventive Health & Leadership Programme and Vocational Skill Development Programmes.
The In-School Preventive Health & Leadership Programme is a one year model where the students are sensitised on tobacco control through nodal teachers, trained by Salaam Bombay. As part of the initiative, regular in-school workshops on the ill-effects of tobacco are conducted for the students; activities related to advocacy against tobacco are carried out during festivals and student health councils – Bal Panchayat and Bal Parishad - are formed in secondary schools creating young leaders of change. Each student council is required to complete at least 3 out of 6 activities (drawing competitions, Rakshabandhan activities, posters, rallies, etc.). Serious health messaging is conveyed through skits and songs and young leaders present a charter of demands to ensure a tobacco-free environment. The tobacco awareness and advocacy intervention has resulted in 3,101 adolescents from 5 secondary schools, being declared tobacco-free. Currently, another 2,900 adolescents are part of the programme.
Based on the need of the region, the Vocational Skill Development Programme focusses on opportunities for livelihood and sustained positive change through the skill learnt. Courses on Beauty & Wellness, Computer Hardware Repair, Mobile Repair and Home Appliance Repair are carried out by regional NSDC (National Skill Development Corporation) affiliated training partner LabourNet Services India Pvt. Ltd. As part of the initiative, field visits are conducted along with a mid-term and final assessment. A highlight of our Jaipur presence is the breaking of gender biases in an otherwise conservative environment. 32% of the girls have opted for vocational skill training in Mobile Repair and 53% girls have opted for training in Home Appliance Repair.
"It is a pleasure to be associated with Salaam Bombay Foundation as the programmes are well implemented. The team always ensure that their partners are well capacitated to deliver high quality work." - Ms. Neetu Guleri, Project Manager, SHARP .
Training Partners